Circular Connector Pin Arrangements
If you are looking for circular connectors for industrial applications, it is essential to make sure you have selected the right products that will be fully compatible with your existing setup. Choosing the wrong connectors could mean that they cannot be used, or that they run the risk of damaging your system.
Circular connector pin arrangements and contact arrangements are among the most important factors to consider when choosing a product. Every circular connector will have a distinct configuration of pin and socket contacts to deliver the best performance and signal transmission possible, and these will need to be correctly matched with your existing setup to make sure it is compliant with the necessary standards or if you have any pre-existing configurations in situ.
Here, we will explain the basics behind circular connector pin arrangements and explain how you can make sure you are always choosing the right product for your needs.
What do circular connector pin arrangements mean?
Every connector features a number of contacts, which are used to carry the necessary power, data or signal across the connection. Pin contacts are slotted into recessed cavities on the male side of the connection, which can then be plugged into flush-mount cavities on the connector's female counterpart that house the socket contacts, and allow the signal transmission from one component to the other.
When a connector requires multiple contacts, these pins will need to be organised into a specific arrangement, depending on the number and size of the pins, the shell size, and the type of signal or data that needs to be transferred. Multi-pin configurations are common in electronics, and male and female connectors need to be matched correctly to ensure compatibility.  
How many circular connector pin arrangements are there?
There are a huge variety of potential contact arrangements for circular connectors, with different components featuring pin & socket contacts of varying shapes and sizes, sometimes varying within the same connector. The number of contacts can also vary considerably, with some components (such as coaxial connectors) possessing only one contact, while others contain many.
Below is an example of the different contact arrangements available within the Souriau UTGX Series, demonstrating the wide variety of contact configurations that exist within a single product line and in this case just one of the many shell sizes: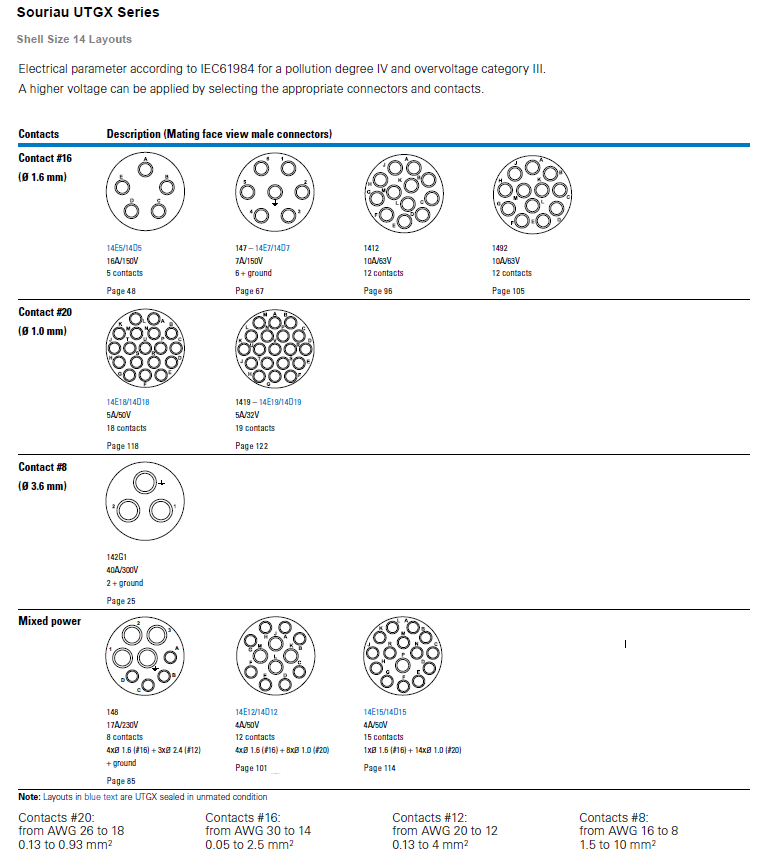 Each of these layouts is optimised to provide different levels of performance and will not be compatible with other configurations, which is why it is essential to identify the contact arrangement you need for your system before obtaining the connector.
How to find the contact arrangement you need for your connector
In order to determine which connector you will need, it may be necessary to inspect your existing setup or equipment to find out which connector contact configurations are compatible with the system. You may need to consult the technical documentation or product labelling in order to find these specifications.
Once you have determined which contact arrangement is needed for your system, you can look for a connector that meets these requirements by inspecting the connector series literature, which contains the information you will need to identify a configuration.
For example, the Souriau UTP Series from Eaton is a size 14 UTP6 male connector with 12 pins, for which the part number would be listed as follows:
Part number: UTP61412P

UTP6 - the designation for the product range
14 - the size category
12 - the number of pins
P - stands for pin, showing this is the male connector (the female alternative is S, standing for socket)
If you are in doubt about what contact arrangement you require for your circular connectors, it is best to seek advice from a distributor such as Northern Connectors, which can provide a wide range of circular connectors, as well as in-house technical support and expertise to help you find the right connector for your specific application.
Find out more
If you want to know more about circular connectors and pin arrangements or need guidance with selecting a suitable solution for your application, Northern Connectors is here to help.
You can explore the circular connectors section of our website, call us on 01744 815001, or complete our online contact form and we will be in touch at the nearest opportunity.